Author/Performer and Riders of the Orphan Train
Crow: People from all over the world find each other. I met Alison through Kerrville and the band Still on the Hill. After reading her book Small Spaces between Emergencies, I became an admirer and fan. In the swirl of years, I haven't kept up with all she's been doing. So this is a great chance for me to catch up as well as to introduce her and her work to you all.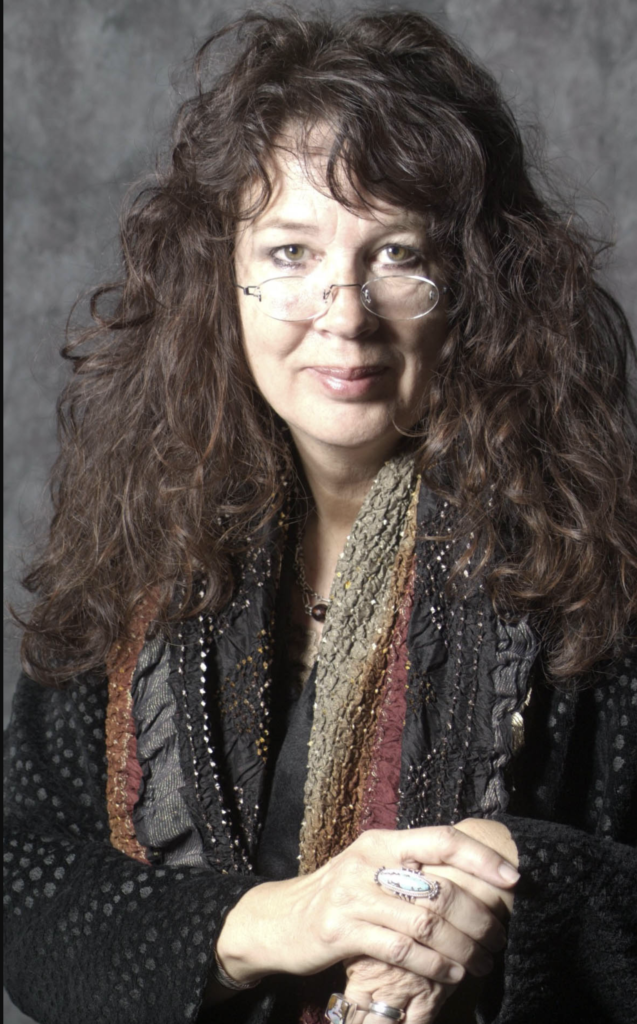 Crow: Can you tell us about the beginning of this chapter in your life?
Alison: In 1997 I met Phil Lancaster, a member of the original Still on the Hill band at the Kerrville Folk Festival in Texas. I was living in Tucson, AZ at the time and one of my grad students had just seen the PBS documentary on the American Experience called "The Orphan Trains" and told me about it. At Kerrville, I asked Phil if he'd ever heard of this part of American history. He never had.
I came to Fayetteville that summer. We got ahold of the PBS video "The Orphan Trains" from inter-library loan and were shocked by such a huge story being so little-known, and were inspired to create a humanities-based program to raise awareness in the public.
I had to return to Tucson to teach that fall, and we began writing songs over the phone. I then wrote a short story that later turned into the historical novel Riders on the Orphan Train.
Through an incident of serendipity that we still are in awe of, Phil was introduced to Mary Ellen Johnson at the Orphan Train Heritage Society of America in a tiny office in Springdale just as they were getting ready to have a tenth anniversary of the organization and an Orphan Train reunion. Phil played one of our songs for her and she invited him to be a part of the event.
He called me up on a Tuesday and said he was going to get to ride on an Orphan Train that Friday. "Not without me, you're not!" I told him, and promptly got a ticket to Fayetteville.
We rode the Arkansas and Missouri scenic train with eleven Orphan Train Riders and twenty-two children in period costume to do a reenactment of the choosing of the children in the Van Buren Opera House in October of 1997. It was eerie and moving to see this unfold on the stage in front of me after I'd just written about it from my imagination and some details I remembered from the PBS documentary. From that day forward, our lives changed. I soon left my tenure-track teaching job at the University of Arizona and Phil left Still on the Hill. The rest is ongoing history.
Crow: Would you describe the program for folks who haven't seen it?
Alison: The program we created, "Riders on the Orphan Train," is a multimedia presentation about the history and legacy of the Orphan Train Movement. Our first gig was in Fayetteville at the old library in February of 1998. The program combines original music, storytelling, video interviews with survivors, historical photographs, and audience Q&A to tell the story of the estimated 250,000 orphans and surrendered children from single parents in New York between 1854 and 1929 who were sent out on trains to find new homes in every state. Several hundred came to Arkansas, to Fayetteville, Springdale, Rogers, Berryville, Ft. Smith, Subiaco, Paris, Booneville, Pocahontas, and many other places. We began as the Outreach Program for the Orphan Train Heritage Society of America in Springdale in 1988. Mary Ellen Johnson had collected 6,000 stories of Riders and published them in a series called "Orphan Train Riders: Their True Stories." Her archives were eventually transferred to the National Orphan Train Complex Museum and Research Center in Concordia, KS in 2006. Phil and I are now the official educational outreach program for that non-profit.
Crow: Your nomadic life seems as fluid as your writing. Do you have a home base?
Alison: Yes, we're based out of Austin, TX these days. We've been presenting this program for 24 years with National Endowment for the Humanities funding from state humanities councils in libraries and museums in Texas, Arkansas, Wyoming, New Mexico, Arizona, Nebraska, Utah, Missouri, and Oklahoma. We celebrated 19 years on the road with a program at Crystal Bridges in 2017.
Crow: What do you love about life on the road?
Alison: We travel with a small (11') vintage travel trailer and a dog, so we create "home on the road." We camp in National Forest campgrounds (dry camping) and try to plan our tours with the weather and bird migrations as a guide. Arizona in winter, Wyoming in summer. We have lots of downtime between gigs so that we can explore the southwest. Nomadic, we return to areas we love. Even though we're doing the same program, the audience is always different and usually includes some descendants of Orphan Train Riders who share their stories. We have made countless friends on the road and made a great number of people aware of this part of history that has affected us all.
Crow: When do you make time for writing?
Alison: Excellent question! Luckily, I'm a free-range writer. I write when and where I can. I usually take a month or two off and take up residence in a writer's colony. I've been to the Writers Colony Dairy Hollow and Lucky Star Farm in the Ozarks several times.
Crow: Are you and your amazingly talented co-conspirator, Phil Lancaster, working on more productions?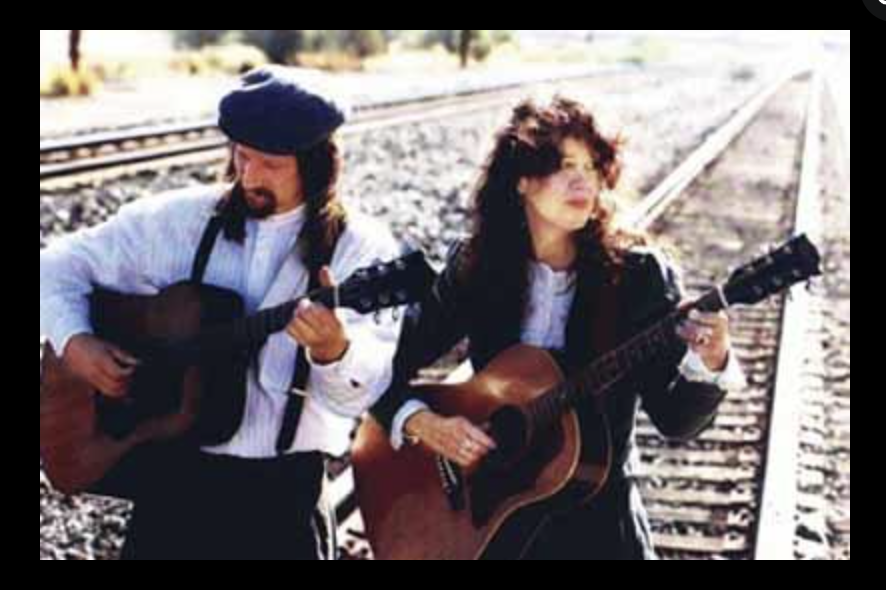 Alison: I'm currently working on a historical novel set in Rush, AR on the Buffalo River in 1893. Phil may be doing a project on the Arkansas songwriter Jimmy Driftwood. He's also spending time on wood sculptures and drawings. (He is multi-talented and went to art school in France in the '70s)
Crow: What has been your lowest point and how did you find your way out of it?
Alison: The lowest point was /2009 when the economy crashed. We had 12 programs lined up and all were canceled. In 2010 I received an NEA grant to complete the Orphan Train novel. A real windfall. But for about a year we had to borrow money from friends to get by.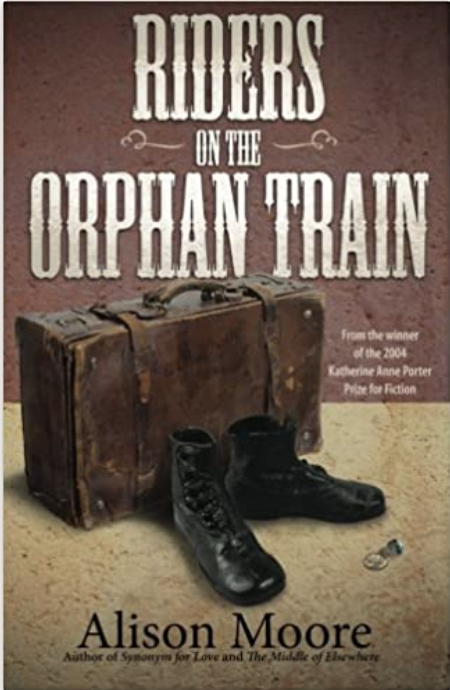 Crow: One of my highlights has been creating a picture and discovering that you liked it and associated it with your poem, "Liberty".
Here's the image… and here is the audio of her reading "Liberty"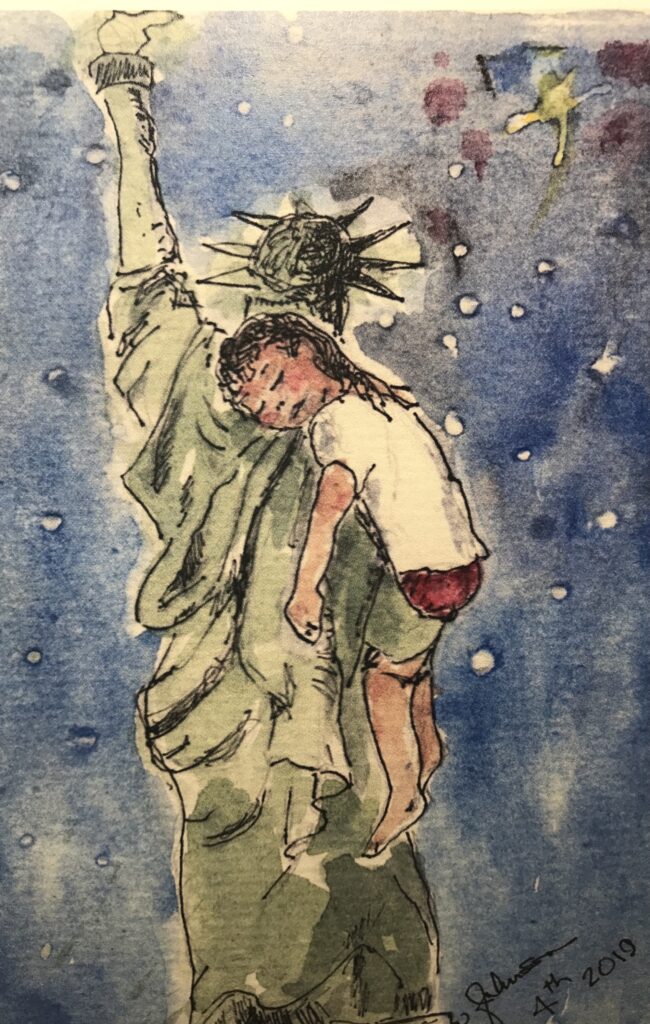 Audio recording of Alison reading "Liberty".
Liberty
©2012 Alison Moore
She could topple at any moment,
a plane straying off course, a bomb
in someone's shoes. The golden door
is bolted shut and we didn't even hear
it close. They opened part of her again,
you can look, but you can't come in.
Once upon a time
there was a country, there was a we
there was a people made of us.
Now the woman holding the light
sighs deeply. She's had enough. She's yearning,
yearning to be free somewhere else.
She lowers the light and turns,
dragging those broken shackles
into New Jersey.
Cars whiz by, honking. She's barefoot
through the Midwest, Missouri, Oklahoma
City looks oh, so pretty on what's left
of Route 66. A trucker from Arkansas
stops. She climbs in, clanking.
"Holy shit," he says.
She takes off her crown, sets it
on the Naugahyde seat. Props
her enormous green feet on the dash,
the broken chain dangling.
"Where you headed?" he asks.
"I'll know when I get there."
"How about a little country music?" he asks.
"Which country?" she says.
"Oh, come on, you know," he says.
"Perhaps some klezmer from Poland?"
"I'm talking 'bout Johnny Cash. Where you been?"
"I've been standing in one spot
for well over a hundred years."
So it's "Cry, Cry, Cry," all the way through
Tucumcari, "I Walk the Line" way past Flagstaff,
She tells him about the millions
who cried when they saw her light. How terribly
lonely she's been lately. He tells her
how he traded the farm for the truck,
went in hock for the insurance. She nods.
She knows. It's expensive to be free.
And so it's "Folsom Prison Blues"
all the way to Kingman, then down,
down toward Calexico and Tijuana.
Just north of the border, a yellow warning
a shadow family, hand in hand, running
across the highway. "What's that?"
she asks. "Illegal Immigrant crossing,"
he says. "Let me out," she says. "Right here."
"Didn't get your name," he says.
"You know," she says. "Or used to."
She strides through the desert,
tramples the prickly pear without a scratch.
Stops when she gets to the border fence.
She fires up the lamp, hoists the light,
puts the crown back, a little crookedly
on her head. She waits.
Before long, a family of four crawls
through the fence. She starts to speak
to them. "Give me…"
It's been so long. One of the children
prompts her, the boy, who's been in school.
"You're tired," he says. "You're poor."
"Yes," she says, "I am." The girl climbs
on to the ledge of her big toe.
That's what gets to her—
the wonderful weight of this child,
not huddled at all. Liberty weeps,
from all that time alone welcoming everyone.
And this one here, standing on her foot,
what does she want? Health insurance?
An E-ticket ride in Disneyland? The child turns,
shines a flashlight upward onto Liberty's face.
"Libertdad," the child says, to remind her why she came.
"Libertdad."
Crow: How can people learn more about you and follow your work?
Alison: We have a website: www.ridersontheorphantrain.org has a video clip of our program. We also have a facebook page, Riders on the Orphan Train, that has announcements as to our whereabouts.
My author page is www.alisonmoorebooks.com although you have to go to Amazon or elsewhere on the internet to order my books. I have four: Small Spaces between Emergencies, Synonym for Love, The Middle of Elsewhere, and Riders on the Orphan Train. We have a CD called "Riders on the Orphan Train" but it's only available at gigs. We'll be doing the program in Yellville on March 16 at 7 p.m. at the VFW Hall right in town on 412.
Crow: Is this the life you envisioned as a teen?
Alison: When I was a child, I wanted to be a cowgirl. As a teen, I already knew I wanted to be a writer. Even though I enjoyed teaching at the university level, I love reading my work off-book now; I get to see the faces of my listeners and talk with them afterward.
Crow: What purpose compels you?
Alison: I want to move people with my work. As a writer/performer, I've found an alternative writing life on the road. I recite my work from memory during the Orphan Train program and I will be doing a recitation from the Rush book in progress this summer as part of the 50th Anniversary of the Buffalo River at Buffalo Point Campground amphitheater on June 10 at 6 p.m. along with other artists from the Lucky Star Farm Buffalo River Project.
Crow: Thank you, Alison, for taking the time to do this interview. I– and I'm sure our listeners– enjoy the direct and inspired way you create your life, entertainment, and literature.