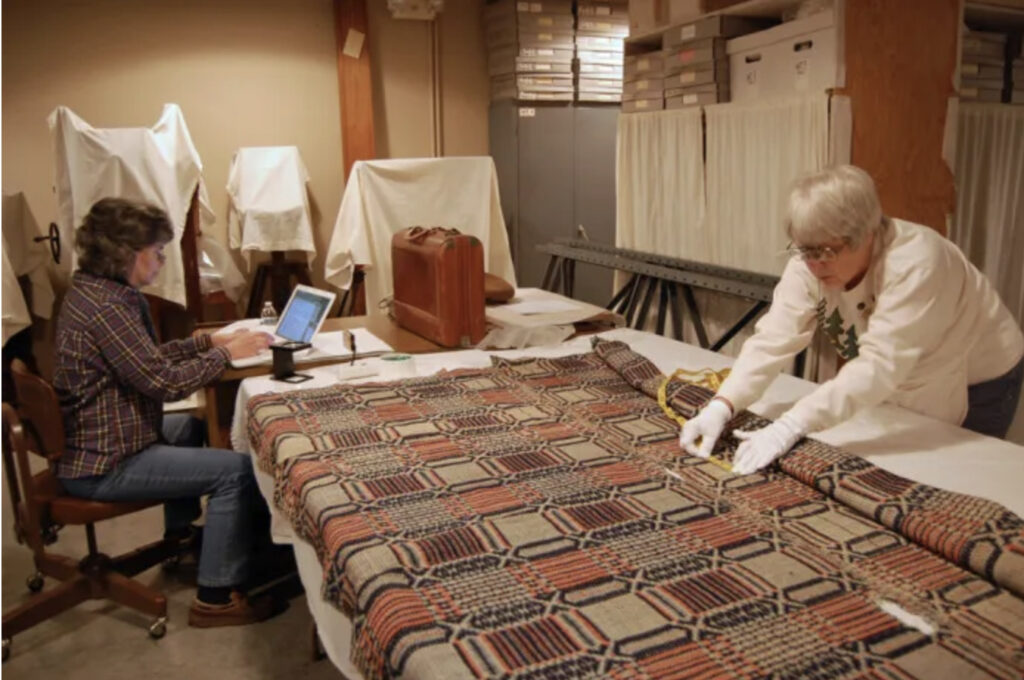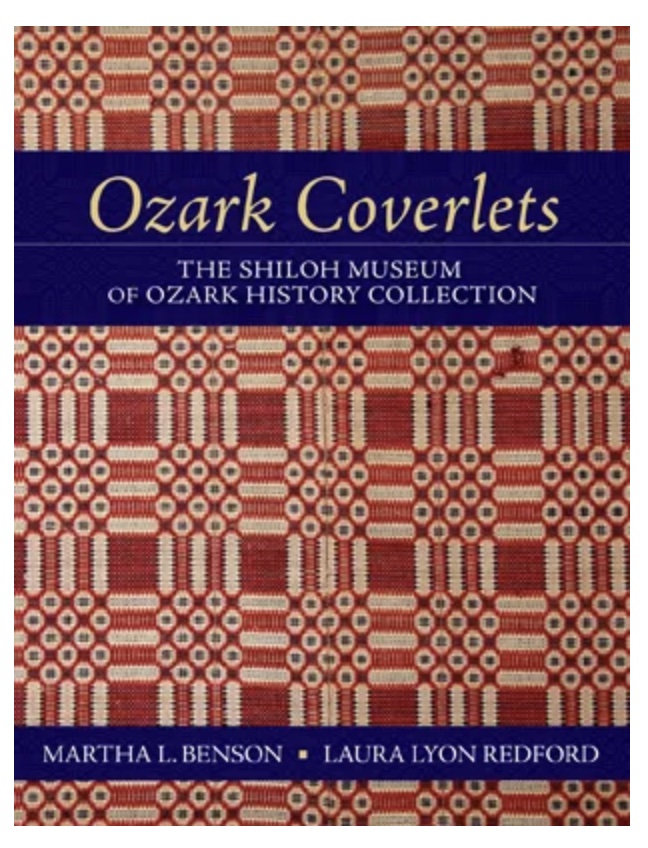 Have you ever wondered why those family heirlooms are so precious? In the 1800s women performed magical feats that took months. They started with sheep and transformed their fur into beautifully detailed woven bed-coverings. Beyond clever, many women had their own original designs.
After being dazzled by the process of weaving, I joined the Northwest Arkansas Handweavers Guild. Laura Redford and Marty Benson not only teach all who are interested, but they also have done astounding research into the weavings and people of the Ozarks.
Crow: When did your passion for weaving begin and how?
Marty: I fell in love with weaving in college – one look at a loom and I was captivated!
Laura: I think my earliest interest in weaving was sparked by seeing an old loom at the Smithsonian and again later at a Louisiana plantation museum. I continue to be fascinated by all the various "machines" that have been invented and improved to create cloth. I took a frame loom class in the middle 1980s (not for me, I hate doing hand-manipulated weaving) and then had studio lessons on a shaft loom.
Crow: How did you come to the Ozarks? by birth or choice?
Marty: I moved to the Ozarks to be closer to my family. My grandparents were from this area, and various members of my family have lived here since the 1980s.
Laura: I was born and raised on the north edge of geologically-defined Ozarks but we never considered ourselves to be part of the culturally-defined Ozarks. However, going to the Missouri Ozarks was part of my early years. In the early 1980s, I moved to Northwest Arkansas.
Crow: Can you explain what Coverlets are for the folks?
Marty: I tell them that they are hand-woven bedspreads. Laura and I have a fun presentation where we show people quilts and tell them that quilters start with fabric and make a bed covering. But, we say, weavers start with thread and make the fabric! And the fabric is the bed covering! (We then toss an old quilt to the side and parade around with a gorgeous coverlet!)
Crow: What was the best part about writing the book Ozark Coverlets?
Marty: For me, the best part was spending long days with Laura examining the most amazing weaving I could ever imagine. We fell in love with each coverlet, and with its weaver.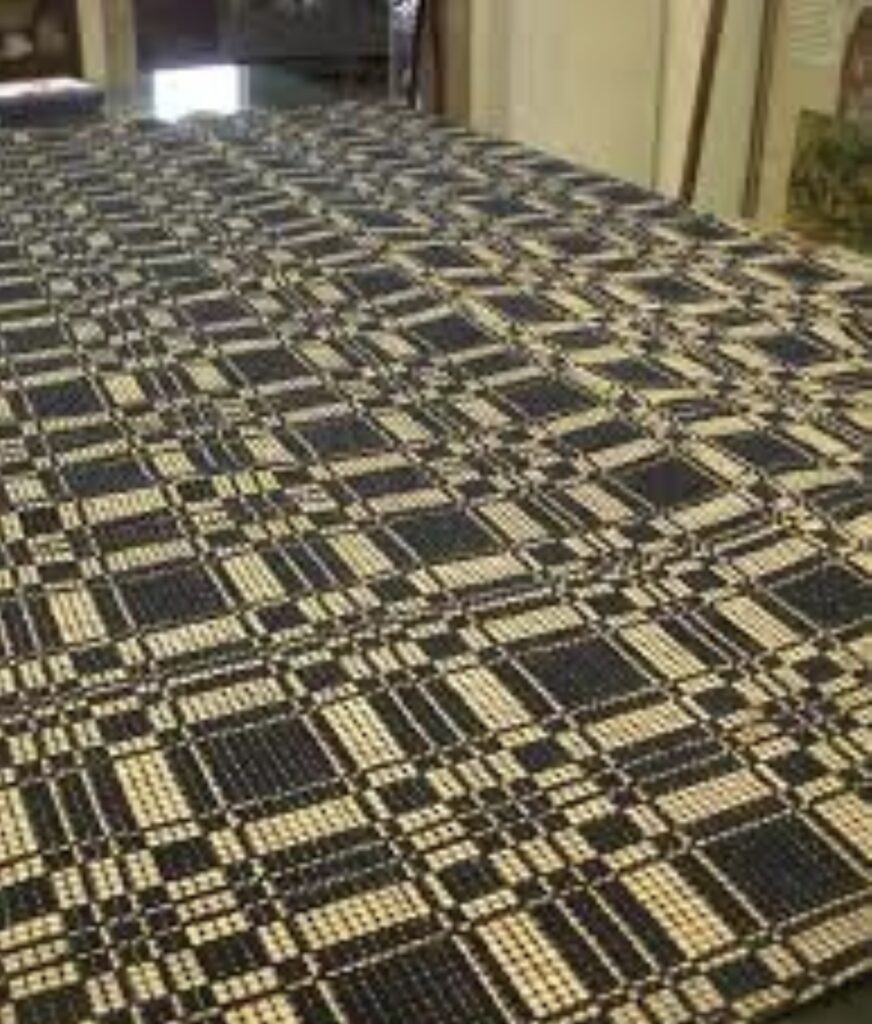 Laura: Collaboration is always a good thing. Marty and I can sort of talk in shorthand, it's pretty cool. We fell into a natural division of labor: she did the pattern analysis and created the "modern notation" of the patterns while I did the historical research on each piece. By learning about each weaver of each coverlet, where we had that information, I have learned more history than I can tell you and have a much deeper understanding of the trials and hardships of women and families in the 1820-1880 time period. We also had great support from the Shiloh Museum staff. The book would not have happened without them. After publication, we had the opportunity to give presentations at venues from church basements to museum auditoriums to Crystal Bridges. Marty gave one in England and Laura presented at Coverlet College (National Museum of American Coverlets) in Pennsylvania. Our time and any expenses we incur are all donated to the project. And proceeds from the book go to the museum.
Crow: Why are you studying Ozark coverlets?
Laura: When Marty and I started this project, we were interested in getting an up-close-and-personal look at the coverlet collection in the Shiloh Museum of Ozark History. As we continued someone said "you should write an article" and that led to "you should write a book."
We started looking for other articles about coverlets, Ozark coverlets in particular. Although we found lots of scholarly work on Appalachian coverlets and weavers, we found virtually nothing about Ozark coverlets and their weavers. We decided that should change and here we are continuing the Ozark Coverlet Project.
Crow: Have you kept up with the Northwest Arkansas Handweavers' Guild (NWAHWG) through these times of Covid?
Marty: I attend meetings in person or over Zoom, when possible. I also have been facilitating a study group that has been researching ideas published in weaving literature that is more than 50 years old. We call our study "Vintage Variations" and I am excited about all we have been uncovering!
Laura: Founded in 1949 the guild has seen lots of ups and downs in its almost 75-year history, but Covid has been a very big challenge. At our last meeting, we had the largest in-person crowd in the last two years…thanks to our officers keeping the newsletter and hybrid zoom meetings going… and Marty's study group too.
Crow: Do you have another book in the works?
Marty: The second volume of our coverlet adventures is alive and well! Laura has done a fantastic job coordinating with almost a dozen museums in the area to get the photography and other final touches in place. [Laura should take the lead on this part because she really has done wonders!]
Laura: While we were working on the first book, which documents and tells the stories of the coverlets in the collection of the Shiloh Museum of Ozark History, we kept hearing about a coverlet here or there. We decided to continue what had become the Ozark Coverlet Project. We have now documented coverlets in ten different collections and are currently working on the final edits before going to the book designer. When Covid hit, we were ready to begin professional photography of each piece. The virus shut us down but some good things happened for us during that time: more research–always another piece of information to pursue; a few more coverlets discovered; and best of all, Shiloh Museum agreed to publish the second book. Their talented photographer has just completed the photography. For this book, the collaboration has expanded to include people from all ten museums.
Thanks again, Crow! Marty Benson