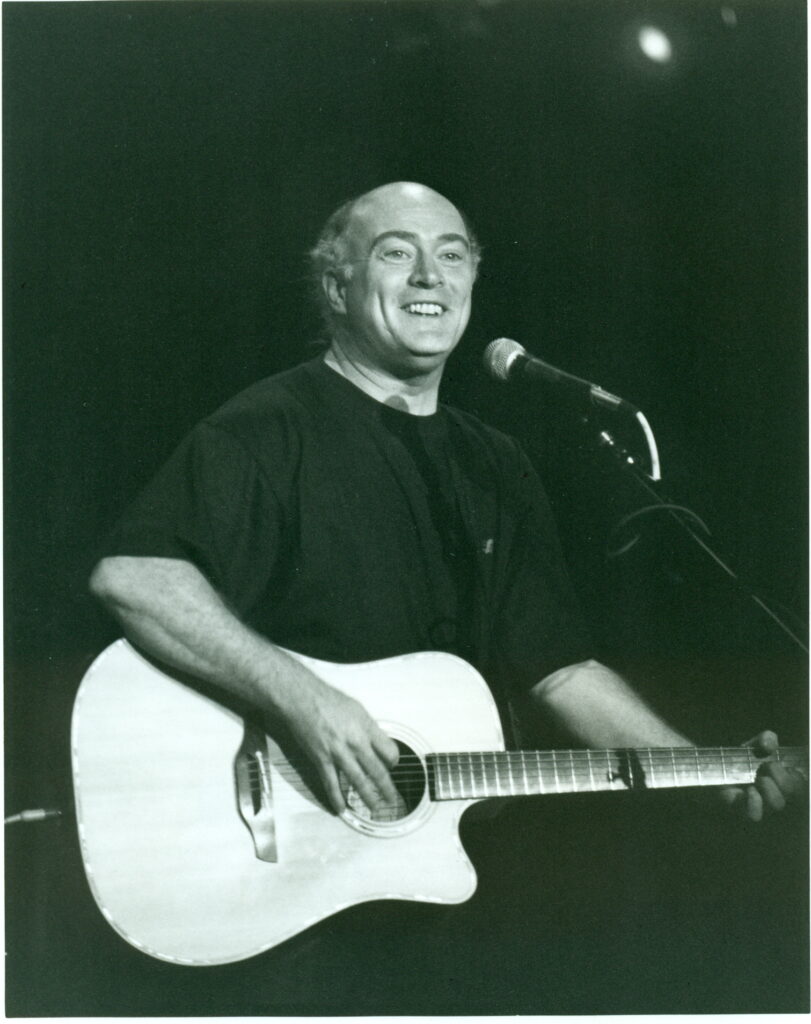 How does a song surface and fly? What does that feel like? Jon Ims shares with us his funny, fun, and amazing story. "She's in Love with the Boy" and "Fallin' Out of Love"
Crow: What was it like to break into the Country Music world as a newcomer with two hit songs on the radio at the same time?
Jon: It's quite complicated but let me share an early memory of what happened at the cusp:
In the early fall of 1991, I packed everything I owned into a U-haul truck and left my home in Colorado for the long drive to Tennessee. The truck had a radio but reception was spotty and so I spent most of the first day's drive in silence contemplating what might lay in store for me in the weeks ahead.
Throughout the summer my songs "She's In Love With The Boy" and "Falling Out Of Love" had been climbing the Country music charts building momentum week to week until they had both reached the top ten and then finally sat together at number one and number two. My music business contacts told me this was an historic event in that no single writer had ever done it before. Nashville was abuzz. Who was this guy?
I was lost in a cloud of free-floating anxiety as I entered the more populated areas on the second day of my drive. What was I getting myself into? Would it be worth all I was leaving in the rear-view mirror? I didn't have a clue. Wandering off in my head, I passed through Topeka, Kansas City, and then Columbia hardly noticing my surroundings. On the outskirts of Saint Louis, I decided to turn on the radio. I found a Country station just as the enormous Gateway Arch on the banks of the Mississippi came into view.
Suddenly the opening chords of "She's In Love With The Boy" came surging through the speakers. I cranked the volume up as loud as I could stand and let the sound of Trisha Yearwood's voice wash over me as the late day sun beamed off the arch turning it into a golden rainbow. Serendipity? A nod of approval from the Gods of fate?
As the song faded, the DJ broke in to say that he had been getting requests all day for Reba McEntire's newest hit. In a moment the piano intro for "Falling Out Of Love" filled the truck cab. That's when I lost it. My eyes welled up with tears. My mouth went slack. My mind was numb as I shook my head in wonder. Is this really happening? In my astonishment, I almost missed the turn lane to cross the bridge over the Mississippi.
I have read of synchronicity, of "simultaneous events which appear significantly related but have no discernible causal connection". Looking back, after taking part in such a moment, I can say that for me it was a sign that I was on the right path and I was crossing a bridge to a newer and more fulfilling life.
In 1992, "She's In Love With The Boy" was named Song Of The Year at the BMI Awards. Last year, in 2021, while performing on the Grand Ole Opry Trisha Yearwood was surprised with the announcement that SLB has been played on the radio more times than any Country song by a female artist in the past thirty years. When I heard about it the words I had written so long ago came back to mind:
"What's meant to be will always find a way" Boy Howdy!
Crow: We've lost so many from the early days, gems as musicians and humans. Are there any treasured moments that stand out in your memory?
Jon: I have a journal full of memories. Allow me to share one of the more hilarious:
Steve Fromholtz and I met while teaching at the Kerrville Folk Festival Songwriting school. When he addressed the class, he was very quick-witted and funny as well warm and eager to share his wisdom with the group. I immediately liked him.
One very hot day and we decided to drive into town during the lunch break for some air conditioning and a burger. Along the way we were talking about the songs of Jimmie Rodgers covered by Merle Haggard on his album "Same train different time". As it turned out, we both knew all the songs and especially liked "Waiting for a train". In a moment, that may or may not have been aided by something we may or may not have smoked, we began to make up our own lyrics to the old classic.
We quickly got to the point where we thought we'd better write down all the stuff flying out of our heads because it was starting to turn into something. I had a pen but when we looked around, we couldn't find any paper anywhere in the van. Now we really had to remember it. By the time I pulled into the Mcdonald's parking lot we had three verses and a yodel harmony. As soon as we got inside, I grabbed a bag and we went off into a corner and began to write the whole thing down. We ended up completing our parody "Waiting for a Plane" in the time that it took to finish our lunch.
When we got back and class resumed, we sang it for the students. They loved it. And after all these years it still holds up. As does my admiration for my friend.
My memory of that legendary songsmith with his handlebar mustache, his sonorous voice, and his larger-than-life personality comes to mind every time I pass by the golden arches.
Hey buddy. Miss you.
Crow: When was your first Kerrville (Kerrville Music Festival)?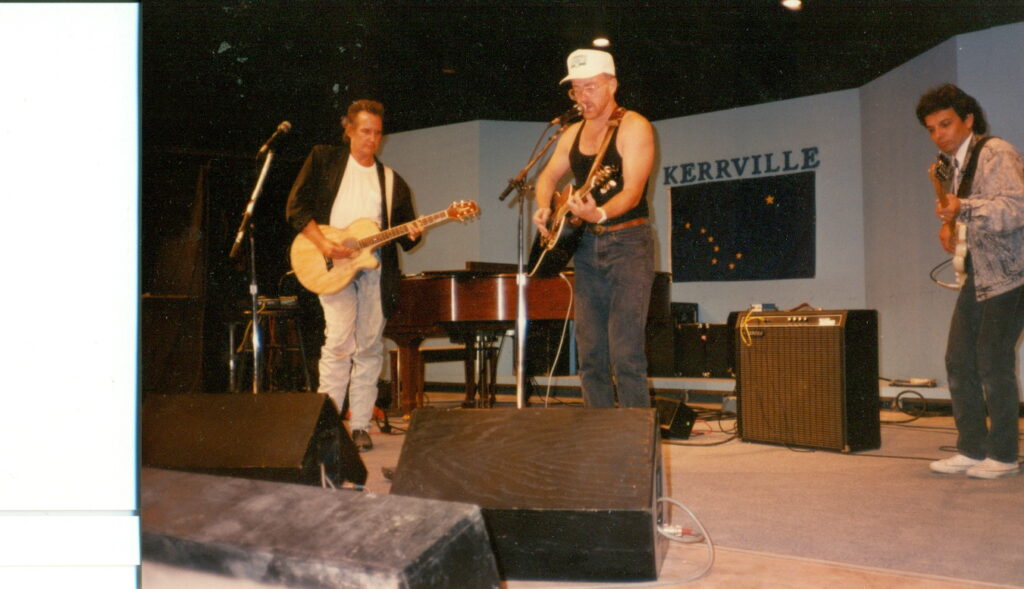 Jon: My first Kerrville was in 1977. I had met Mike Williams on the road when we were both playing college coffeehouse tours and he invited me down. He was gracious enough to bring me onto the main stage during his show to sing a song. That led me to apply for the New Folk Competition which I won along with Tish Hinojosa in 1979. After that Rod Kennedy invited me to perform almost every year until he retired.
Crow: Are you mentoring others?
I've been mentoring aspiring songwriters for over thirty years. I taught at the Nashville Songwriters Association International Song Camps throughout the 90s and through them was able to travel to many cities across the country leading weekend seminars. The contacts I made and their requests for more instruction led to me offering private consultations. I developed a series of re-writing techniques to cover the most common roadblocks to song clarity as a starting point and hopefully, I've made a difference in their writing. At best, I've made many enduring friendships over the years.
Crow: I remember you being more disciplined than most. What is your schedule these days? What interests fill your imagination and time?
Jon: I stick to a strict diet denying all the food and drink that I would consume if I had an impenetrable constitution. I dream of bacon and cheese, martinis and wine, steak and potatoes. Then I wake up to blueberries, yogurt, and All-Bran.
My schedule these days revolves around reading great books: lately George Eliot's "Middlemarch", The Complete works of Elmore Leonard, Richard Tarnas' "Cosmos and Psyche", and Kerrvert Bill McNeal's latest historical novel "Hardeman Lodge", listening to a wide variety of music: Charlie Parker, Lightnin' Hopkins, Thelonious Monk, Louis Armstrong, Hildegard von Bingen, and Silk Sonic to name a few, and speed walking the many hills in my neighborhood to keep in shape.
My main focus is on Archetypal Astrology and creating psychological profiles of political figures. It helps me understand their motivations and the timing of their actions. I've learned that the personal motivations of the few have an enormous effect on the many.
I write songs whenever they present themselves through what I happen to be thinking about at the moment. Songs have their own schedule. I supply the pen and paper.
Crow: Thank you, Jon. I'm excited to share your responses with folks as well as your music.