I'm fascinated with people who hold high artistic skills. I lurk and cruise the internet until something arrests my heart and imagination. John Ma's work has done just that. Because I'm a newcomer to drawing, I did not expect any stranger halfway around the world to answer my beginner questions– much less be as helpful as John has been. Here is the interview with someone I revere as a kind human being and a phenomenal visual artist.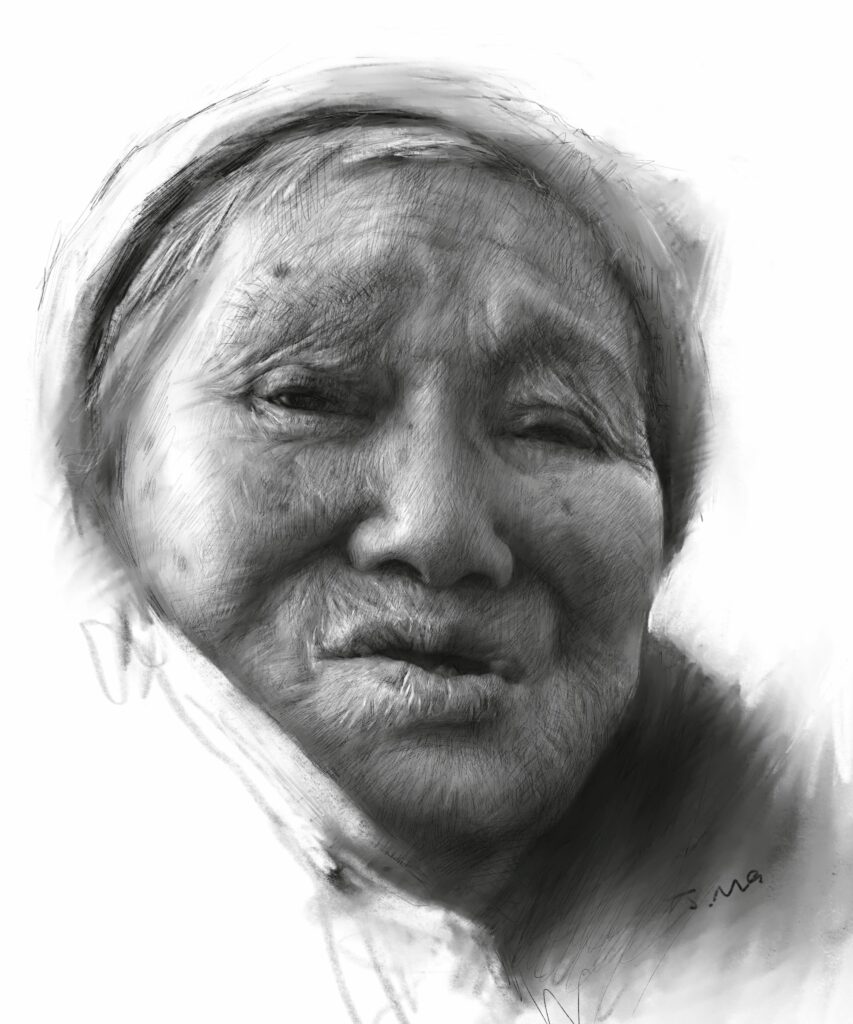 CROW: John Ma, where do you live and where were you born? JOHN MA: I am living and create in Gothenburg, Sweden. I was born in Shanghai, China in 1969.
CROW: Do artistic skills run in your heritage? Are you teaching and exhibiting? Where? JOHN MA: My works are based on painting techniques and modeling foundations. I am a professional artist and a weekend teacher in adult education at art college of Gothenburg, Sweden. There is also a solo exhibition in Gothenburg every year.
CROW: When did you know this would be your path? JOHN MA: When I was 11 or 12 years old, I participated in the juvenile art exhibition. I didn't determine my career path until I graduated from the Academy of Fine Arts.
CROW: Do you have children?
JOHN MA: I have a 21-month-old daughter.
CROW: Where have you studied arts?
JOHN MA: My basic art education comes from China. I graduated from Xi'an Academy of Fine Arts in China. All my work is art research and I have not dabbled in other fields. My basic art education comes from China. I graduated from Xi'an Academy of Fine Arts in China. All my work is art research and I have not dabbled in other fields.
CROW: Do you use traditional as well a digital tools in your art? JOHN MA: I am doing digital painting and traditional canvas oil painting at the same time.
CROW: Do you teach virtually online across the world? JOHN MA: I have no online education activities.
CROW: What is the most important quality in art students? JOHN MA: I feel that the most important quality of art professionals is to maintain the continuous enthusiasm for creativity.
CROW: What has been your greatest joy? JOHN MA: My greatest happiness is whenever new works are produced.
CROW: How have you created your life as an artist? I was so surprised that you took the time to send me information about Procreate and the IPad Pro. I couldn't imagine how you created your images. JOHN MA: At present, my main way of living is to cooperate with galleries to sell oil paintings. Regarding my digital works, the ultimate way to appreciate them is through digital media and digital screens, such as YouTube or Facebook. https://www.facebook.com/john.ma.71066/videos/10221405692084418 )
CROW: I'm excited that you are planning a YouTube channel. I want to subscribe and spread the information with our readers. For now, where can people see your work? JOHN MA: You can see my oil paintings on my webpage www.johnma.se, or you can see my real paintings when you come to my studio and visit the gallery. https://m.youtube.com/channel/UCDZ8ttTSjEmdBukjwKSR76Q?fbclid=IwAR2BFWvpi8nwWSFTN8QI8_XxQm4F6iKal-EpGRFvsvVSd4At1Y7z3Xlz_9s
CROW: Oh, I wish I lived close enough to drop by and watch you work! You have an invitation to visit our house in NW Arkansas any time you are in the neighborhood!