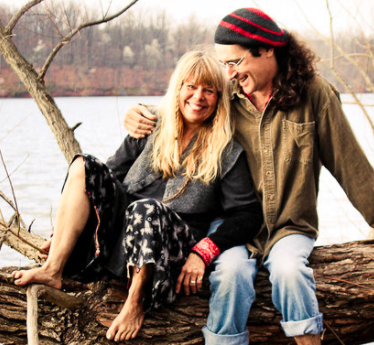 We did an Interview with Still on the Hill last year and you responded. Donna Mulhollan (half of Still on the Hill) is a faceted artist, so I'm not surprised by all she's been doing since the Pandemic has changed most of our plans. Sure, she's that musician-songwriter-fiddler-performer… But I bet you can't guess what's next.
Crow: Donna, thanks so much for agreeing to do this interview. I'm excited to fill folks in on the many directions you have taken. For those who don't already know about you, please tell them about your journey.
Donna: I've been a life-long environmental activist and a serious birder/bird lover for about 20 years. As a professional musician, I've been a road warrior since I was 18 and now at 67, my desire to be traveling coast to coast and around the globe is waning…but my love of birds, the environment, and activism is stronger than ever.
Crow: How has being prevented from playing music all over the world and in public changed your goals?
Donna: When Covid first hit I was very concerned about the homeless population in NW Arkansas and began to learn how to do a craft called needle felting.
Crow: I really didn't know much about needle felting, until you showed me this ancient skill. In the Bronze age, they had felted hats made from sheep's fleece made into bats and processed with water and heat and friction. In our time felted material for clothing and blankets can be made with large plates covered with pins. The barbed pins fix the fibers into the tangle of other fibers. And I read that Mongolian horsemen put sheep's fleece under their horses' saddles and the material felts with wear. But how did you use needle felting art to help the homeless??
Donna: I created a wool bird every day and posted them on Facebook. In a silent auction, I sold each one to the highest bidder at the end of each day and gave every dime to 7 Hills Homeless Center (http://www.7hillscenter.org) in Fayetteville, AR.
I called it GIVE US THIS DAY OUR DAILY BIRD and made over 50 pieces. Some sold for $20 and some for much more.
Crow: And what about Cranes?
That same summer we did a mini-tour up north and had the opportunity to visit the International Crane Foundation in Baraboo, WI. ( www.savingcranes.org) They are doing such amazing work around the globe to help protect all 15 crane species through many creative means.
I was fascinated and began to needle-felt all 15 crane species. It was simply to raise awareness. There is a term that I love to use for myself and what I create…that word is CRAFTIVISM. I'm a 'craftivist', meaning that I love to use my 'art' as a form of activism.
Crow: What did you do with your needle felted cranes? Did you auction them too?
Donna: I sent all 15 cranes to friends hither and yon. I asked each person to keep the piece for a month and then have it migrate on to another friend. The only thing that I asked of each recipient is that they visit the International Crane Foundation's website to learn about these beautiful birds and the work that IOF is doing around the globe. Then I requested that each person send me a photo of themselves with the felted crane and let me know WHERE they hail from so I can follow their flight patterns.
Crow: How far have your cranes flown?
Donna: My cranes have been in Texas, Florida, California, Nebraska, Minnesota, Wisconsin, New Mexico, Arkansas, Canada, Australia, India and now my latest WHITE NAPED CRANE will be flying to MONGOLIA. I recently found out that a group of women in Mongolia are also needle felting to help save the White Naped Crane of their region. I've been in touch with the director of their program and I'm so excited to have one of my cranes hanging on their wall, hopefully, to inspire them, knowing that someone on the other side of the world is doing the same thing to help their cranes!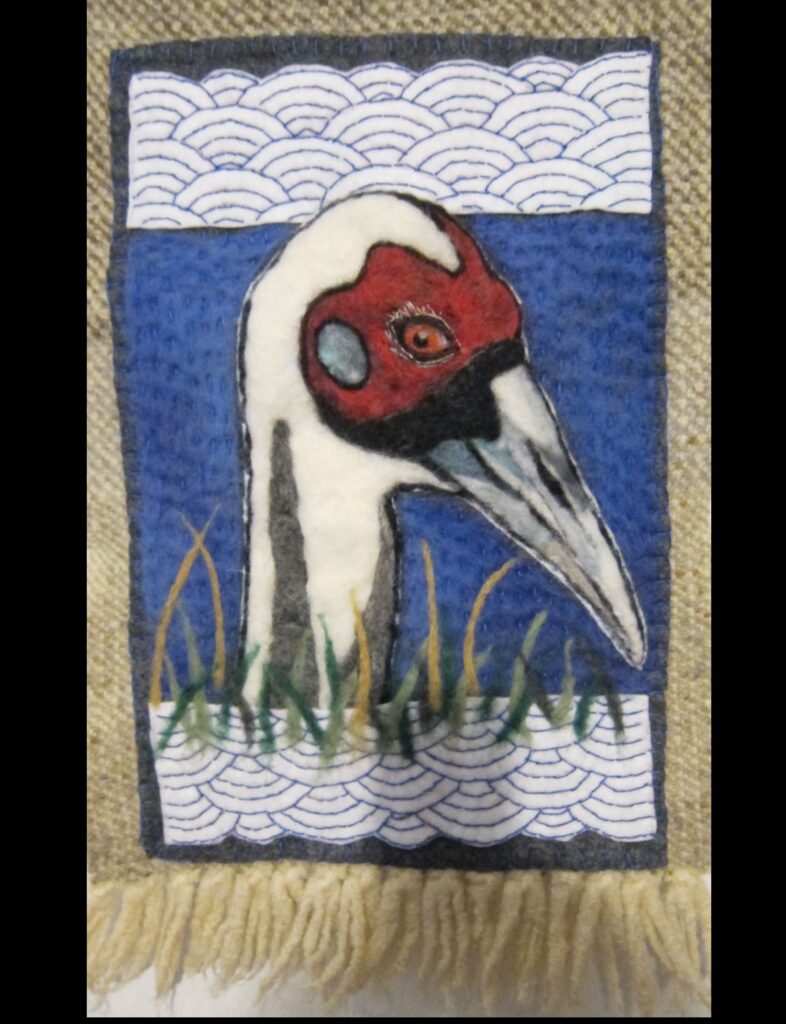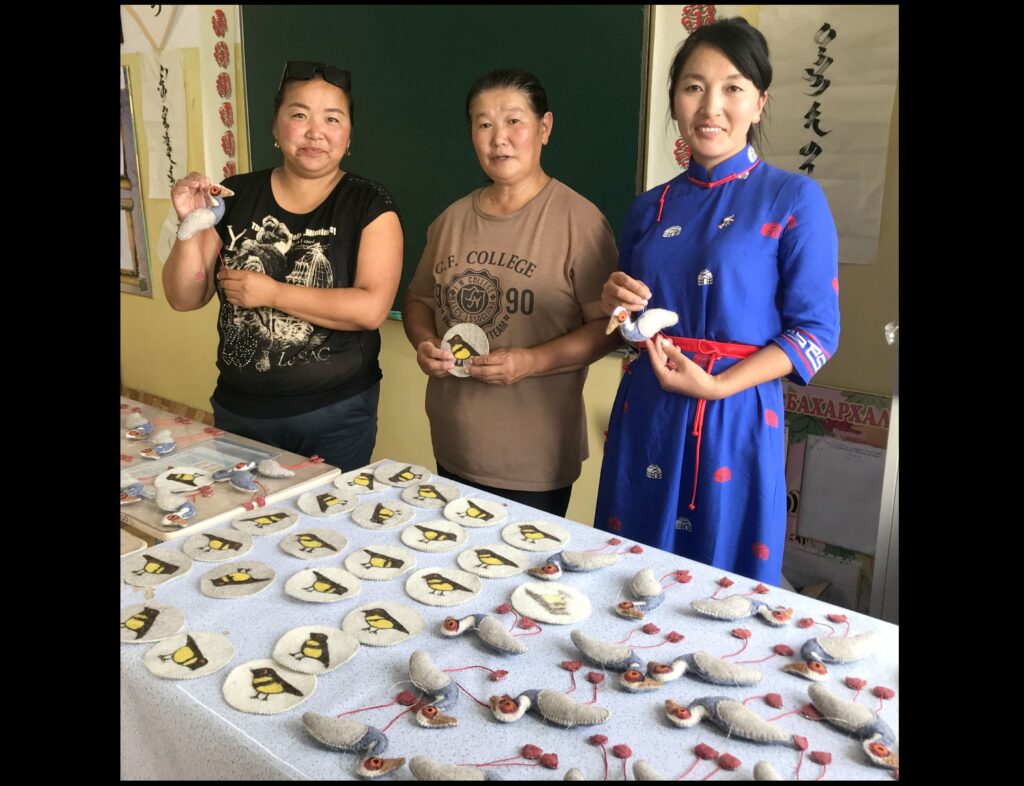 the women in Mongolia
I made a special crane for Auntie Crow. She had sent me a box of wool roving and I wanted to thank her with a crane of her own that she could keep. She has it hanging in her studio and that makes me happy. Here is a photo of Crow and her Crane,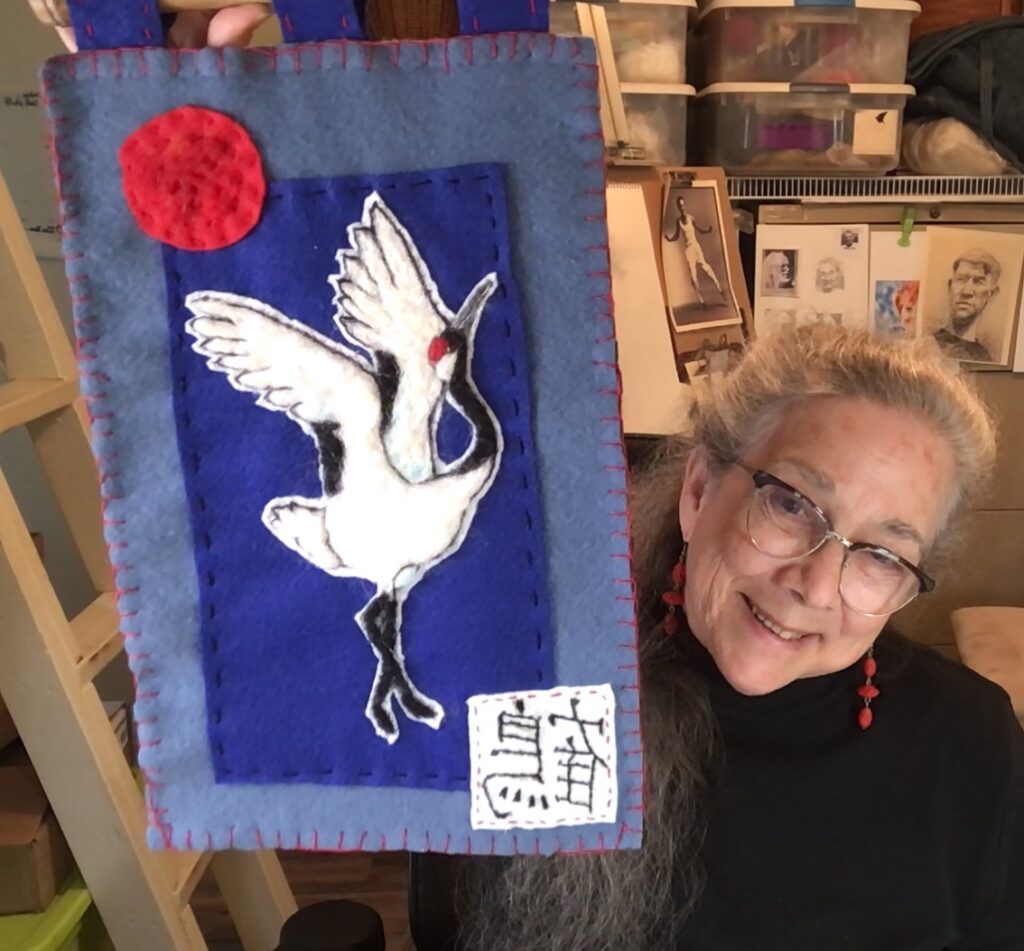 If you have a moment please visit the website of IOP www.savingcranes.org and learn more at www.stillonthehill.com