Mentor/songwriter/performer/teacher/author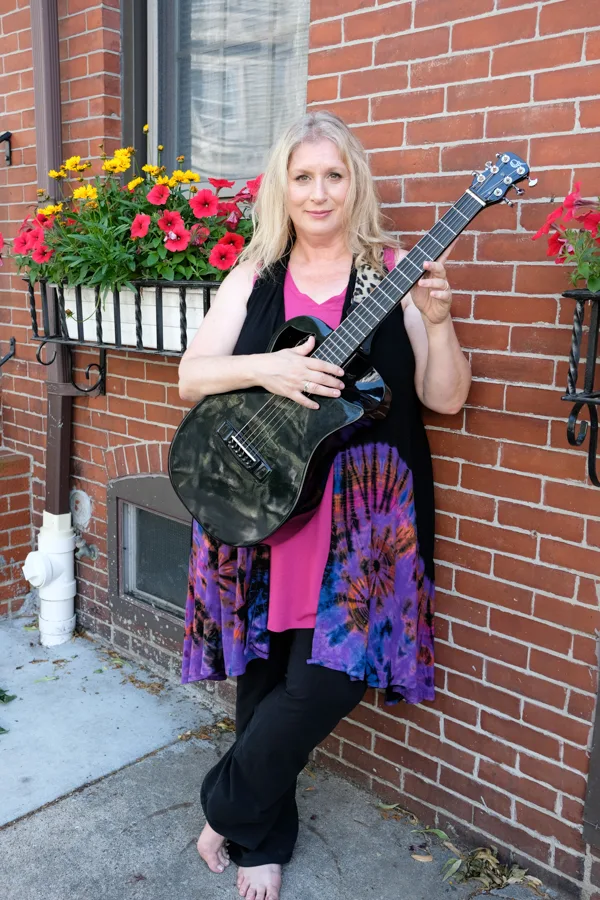 Why am I interviewing so many people with connections to Kerrville Music Festival? Because that is where I have met so many amazing humans. Janet Feld teaches music lessons (live and virtually) for humanoids. I came to know her as a performer about a zillion years ago. How each of us shapes our path through this life fascinates me.. so here are some questions and Janet's answers

Crow: I have known and admired your work for years as a songwriter and guitarist. When did you first realize that ushering others into knowing the guitar was a calling? Did you resist it?

Janet: Back in early 1988, I got a call from my college pal David. He'd taken a job as the music specialist for the local JCC but asked me to apply for the job because he had the opportunity to spend the summer in Israel and didn't want to leave them high and dry. I got the job. It was the first of many experiences over the decades where I was asked to apply for a job teaching music. The first time I met with a group of kids to sing with them, I could feel my body sink into the deliciousness of it. I felt at home in a way I never had at work.
Once I began teaching general music classes to kids, parents asked me to teach their kids privately.
Although I'd had that "I'm home" feeling, I was in the early days of my career as a performing songwriter and held on to the idea that, "I'll just do this until I'm famous….."Then, in the late 90s after not doing any teaching for a couple of years, I realized I really missed teaching. Moreso, that it's not just my job, but my job in life. The Universe had been smacking me upside the head for a decade, sending people to ask me to apply for music teacher jobs. Teaching completes the creative circle for me.
I'd always taught part-time, but now I pursued teaching full-time. As soon as I started down that path, I came into all sorts of "it just so happened, that it just so happened .." situations that had me teaching full time within one year of expressing the desire.
So yes, I did resist it for the first 10 years. Now, my life looks the way I've always wanted it to look: teaching, writing, performing, with plenty of space for my relationships and fun.

Crow: When did you first learn guitar? What styles did you aspire to play? Did anyone discourage you? and if so how did you deal with it?

Janet: My first instrument was the piano starting at age 7. The summer before 7th grade, I began sneaking into my big sister Barb's room and playing her guitar. When she found out, she let me live LOL. My mom borrowed a guitar from a family member to avoid WW3 and I never looked back. After a couple of years when she saw that I was going to stick with it, she bought me a beautiful Alvarez. I still have it and love to play it.
My first songs were from a Peter, Paul, and Mary songbook. I would just stop playing and continue singing whenever there was an F or Bm chord. I learned songs by Simon and Garfunkel, The Beatles, Carly Simon, and Pete Seeger.
I didn't deal with any discouragement until I was in my 20s and told my dad that I wanted to be a musician for a living. He was born in Europe, survived Hitler and was terrified that I wouldn't be able to take care of myself. He and my oldest sister Ellie spent years trying to push me toward other careers.
At first, I made big speeches to them about why music is my calling. Thanks to a bunch of therapy and 12 step meetings, I shifted into allowing them to love me the way they knew how and stopped making those big speeches. They weren't really listening because they were scared.
When my dad would tell me about a job or program he thought I'd be great at, I'd agree with him and leave it at that. After a couple of rounds, and some support from my stepmom, he stopped. Ten years in, having kept steady jobs and paying my bills, I earned some credibility with them. Eventually, my dad was telling me how proud he was of my music career – and God parted the Red Sea ….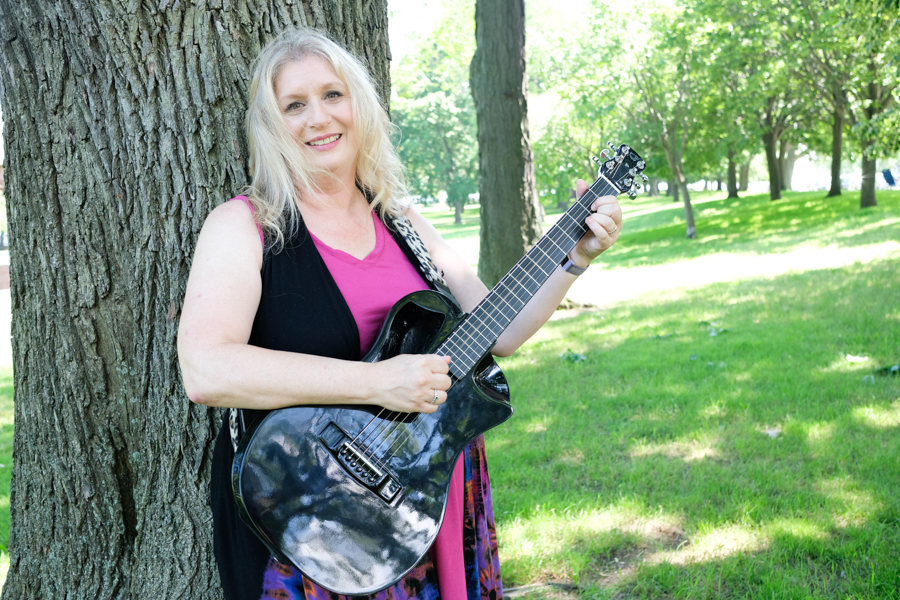 Crow: After a couple of decades of songwriting, a musician experiences different influences in the process of finding one's voice. It's something more than just making a tune that works. How do you address this with your students and co-conspirators?

Janet: Miles Davis once said, "Sometimes you have to play for a long time before you sound like yourself."
With my students, I teach them tools that they can practice regularly to help them find their own voices.
In my experience, people who are not only drawn to listen to music but also want to play, are songwriters. If they haven't ever written a song, it only means that their songwriting faucet hasn't been opened yet. I use class and lesson time to help them open theirs as part of the learning process.
One example is encouraging them to allow themselves to indulge when some chord change or lick from a song their practicing sounds really cool to them and they want to play it over and over again. Many songs begin that way.

Crow: If you will… what has your lowest point been so far and how did you manage to work your way up from it? Your experiences may encourage others.

Janet: With music, it was during a period when I was teaching 60 plus hours a week, 6 days a week and hadn't written a song in two years. I was teaching at a K=8 school, private lessons, classes for adults, Sunday school, summer camp, and supervised a school vacation week program. I was exhausted and on the road to burnout.
In the spirit of, "when the student is ready, the teacher appears.", I discovered and began working with a business coach. I learned that I didn't need to change what I was doing, but how I was doing it. Also, I needed to learn new tools to make that happen.
At first, I simply needed to do some clean-up work. I switched from being paid by students week to week to accepting credit cards and offering lessons by the semester. I also instituted a better cancellation policy and raised my prices. It was all terrifying. My coach says, "Take imperfect action and do it scared."
After I'd been working with her for a while, John and I took the first vacation we'd had in forever. We did our best to imitate domesticated pets and came home well-rested and refreshed. The night we got home, I wrote a song. Eventually, I'd written a whole bunch and recorded a new album.
Raising my prices to a living wage vs. an allowance made it possible for me to move on when I realized that after 30+ years of teaching large groups of children, I was ready to not do that anymore. Since 2017, my days include teaching my private students, adult classes, writing, and playing music. I've just written my first book on teaching music and plan to self-publish it in the fall.

Crow: What fills your dreams at this point in your and John's lives?
Janet: We love our life, our home, friends, and family. We're dreaming of moving him to a position where he can also work remotely so we can spend the coldest months in a warm climate. We play music regularly with friends. I don't tour much anymore, but we also want the flexibility for John to be able to come with me when I do, without having to worry about if he has enough vacation days.
Over the next few years, I plan to move toward coaching other music teachers.
Crow: To learn more about Janet's Planet, her lessons, book, and recordings….you can go to her website. https://janetsplanetmusic.com/about/ I've recently been watching her video guitar tips!! Very cool.