"Imagine that a clever jester is entertaining you and his song is charmingly tuneful. Imagine you are laughing uncontrollably and feeling great. Then imagine you realize that you've just heard one of the most profound sentences ever spoken. —That, for me, is the joy of Brian QTN.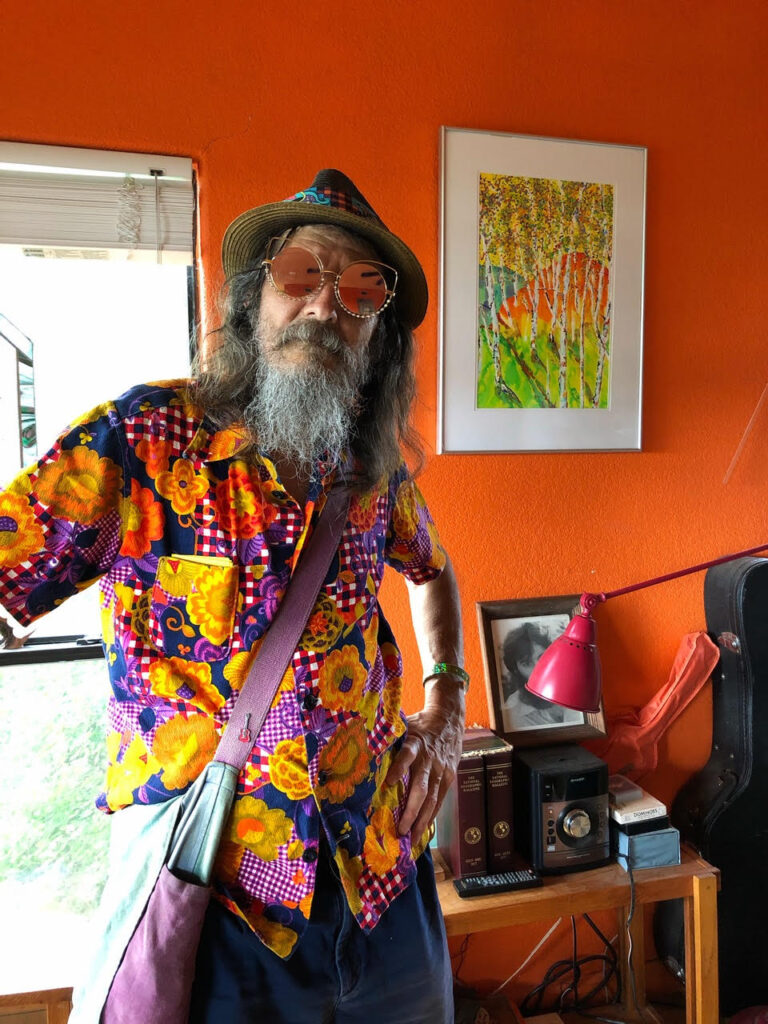 As I type this post, I sure wish you could hear BQ talking. Welcome back or welcome to meeting QTN.
Crow: So dear Brian, when did you first write and perform your songs? Were you raised in a music-focused family?
BQ: There was lotsa music in the house I grew up in near Chicago. Lotsa Old World arguments to augment the music too. My father played trumpet before marrying, dabbled in it afterwards, and always bought records, reel to reel tapes when they became available and was a gadget freak who got us portable radios, reel to reels, etc. My mother loved to sing radio songs. The first records I recall hearing were Spike Jones records (those really stuck in my head and probably explain everything).
We had a kids' record player with 4 speeds (16, 78, 45, and 33) and my brother and I played orange and yellow plastic records on it over and over. One of the first records I recall that wasn't a kid record was a 4 song EP from a potato chip box or something and one of the songs on there was Elvis' "Love Me." The only way I could stand to listen to it was to play it on 16 speed. I played it over and over and remember thinking it was the funniest thing in the world.
When I was 4 1/2, I got a two transistor radio for Christmas in the pre-Beatle years of 59/60 and for me that was the end of one world and the beginning of a different one. With a steady stream of music dreams during the day and under the pillow at night, it fed the tunes and words in my head. Plugged in, I was, to something way bigger than myself and the music was incredible. Even songs I didn't like evolved from early rock and pop crooners to the Great Folk Scare (as Utah Phillips called it) and then the endless songs of the 60s. The radio was filled with pop songs, novelty songs, wordless songs, country music, and anything that could be recorded, all played one after another on nearly every station 24/7. The Black stations played a whole other world of sounds with Chicago blues and soul that stirred something deeper. It was clear the world as we knew it was coming unstuck, kind of like it is again nowadays…
Got my first guitar from my grandparents at Christmas when I was 10. After frustrating lessons at a gangster-run Roberto's Music Salon, I decided to take it upon myself, get over my double-jointed fingers and teach myself to play. Music was a kind of personal thing after that. Didn't really play for others much until friends brought their guitars over and we learned to play together.
Crow: There is something playful and profound in all you do… have you always been that way?
BQ: Not sure how to answer that except after arriving here from wherever I was before, even when things are way too serious, it all seems playful and profound to me. Being silly is serious business and turning the diabolical madness on its head with humor and art changes its affect on us. I have always thought in puns and read backwards and upside down, jumbling words inside out. I've always misheard what others have said, song lyrics included, kind of like listening with an accent… I grew up in the time when TV was young, inventive and playful, and even the kids' shows were filled with puns and double entendres clearly written by adults, but many adults never listened that well so it was like a private joke to the kids who did get it.
We had Beany and Cecil, Rocky and Bullwinkle, The 3 Stooges, The Marx Brothers, Señor Wences, the Banana Man, and endless slapstick. The songs on the radio grew up with me too from romantic teen trash to absurd ("Ahab the Arab", "Pepino the Italian Mouse", "Paralyzed", "They're Coming to Take Me Away" etc) to the explicitly political. In the late 60s, FM frequencies opened up to free-form "underground" radio, mixing it all up and deconstructing order further, playing whole album sides and street poetry and DJs that whispered and tin soldiers and Nixon coming.
I had a portable reel-to-reel and made silly recordings with facetious interviews and ads and played them backwards, splicing tape to make them say even more interesting combinations of things than what we originally recorded. It was (and still is) a fabulous creative force of a multiverse. The endibilities are posstless to this very day and it is all around us.
Crow: Is this life and career what you imagined as a teenager?
BQ: I don't think I really imagined what the future would be when I was a teenager. It was all in the present time (and still is mostly). Along with huge demonstrations and events, there were always concerts in Chicago and I went nearly every weekend for my fix of live performance. I saw everyone I could from The Jefferson Airplane to The Band, The Mothers of Invention, Andres Segovia, Miles Davis, Marcel Marceau, Phil Upchurch, Gil Scott Heron and Brian Jackson, Savoy Brown, Procol Harum and too many others. I read and heard poetry and saw movies that blew the top of my head off. There is an endless fount of creativity all around us always, especially in the natural world.
We made a life-sized, life-like guy we called Annunzio with a moveable wood skeleton, piercing eyes and dressed like he is in this picture. We brought him everywhere with us – to interject Dada and Surrealism into our already Dada Surrealist lives. We took him to restaurants with us and ordered him food, abducted him in front of others and hustled him into the trunk of the car. We even made a movie about him. It was endlessly entertaining real-time 3D theatre (tho at times upsetting to others).
All of it reflected the popular culture of the day with absurd teevee shows like Green Acres (Eddie Albert even said he loved doing it because it was "pure Dada"), Hogan's Heroes (a comedy about Nazi POW camps?! – really?!) and too many others. Consicousness was expanding and the black and white world of the Eisenhower years was exploding in living 60s color.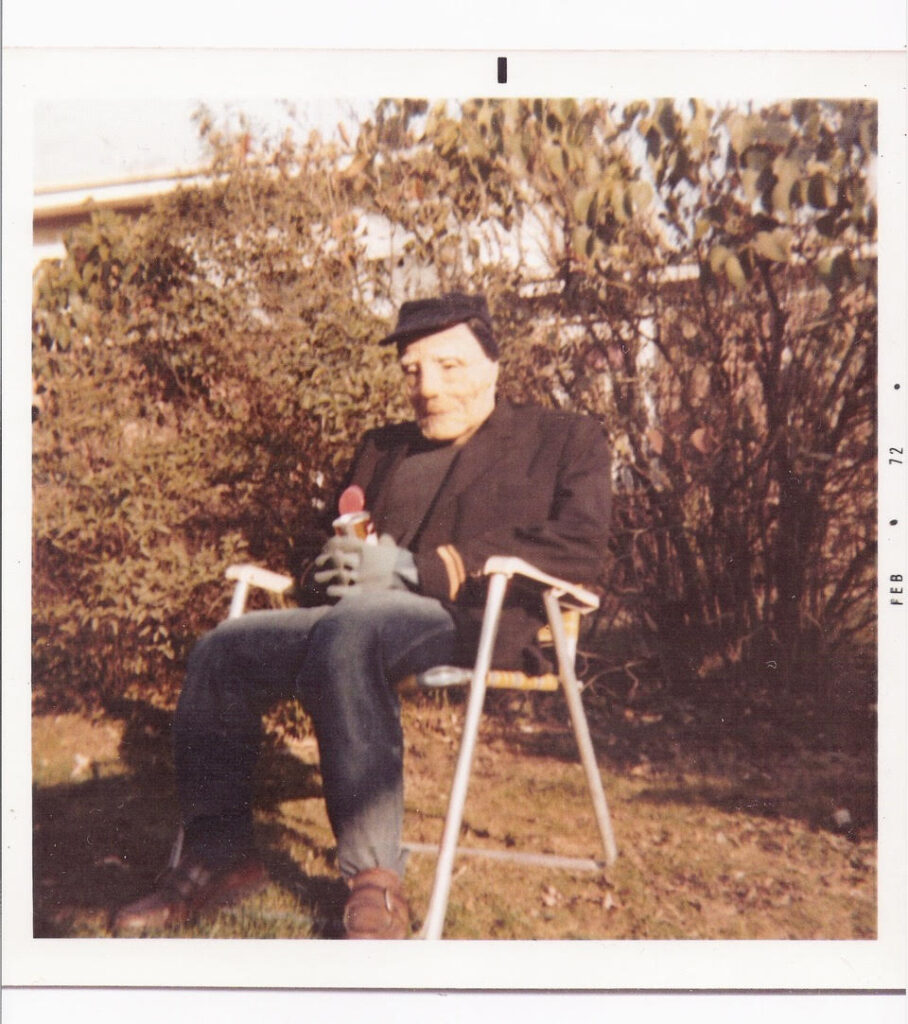 In light of all this, I believe I've successfully avoided a career, thank goodness. That word has always seemed limiting and stodgy to me. At college, as an art major, I didn't find teachers who knew how to do more than keep students busy with routine unimaginative exercises. There was no creation or curiosity and to me, that is a kind of death. I left the art department after the first semester and by then was working at the campus radio station and soon became the Music Director. It was "progressive" radio, mostly unformatted except for specialty shows or to feature new album cuts regularly, and I got in so deep, I would stay up too many nights in a row, corresponding with record companies (no email in those days, everything by postal mail) making odd tapes in the production studio, finding things like Monk and Bob Wills, Coltrane and Sun Ra, sleeping a few hours on my office floor. Music exploded even further in me from then on.
Then right along with all this opening was the second "Folk Scare" that swelled across the country. Chicago especially was filled with venues and acoustic music where I could go see Steve Goodman, Martin, Bogan and Armstrong, Biff Rose, Jim Post, John Prine, Ginni Clemens, Art Thieme, Ed, and Fred Holstein, Betsy Kaske, Bonnie Koloc, Sonny Terry and Brownie McGee, Rosalie Sorrells, Utah Phillips and and and… That affected me bigtime because it was around then I began to earnestly write and learn to present my own songs. It is a strange compulsion and you have to like sitting around with yourself a lot, but playing music or making art of any kind is finding a safe place where nobody can find you for awhile so you can dig in. My first non-open mic gig was at a Mexican Restaurant my brother opened and I'd play to the farmers who'd come in for a beer and tacos. Lotta big lessons there…
That fall, pianist and wildmind songwriter Biff Rose came to perform and I decided to interview him for the radio. I got in touch with what I thought was his manager and arranged for a homemade dinner at a friend's house when he came to town. There we could sit down and talk "on the record." After a fine spaghetti dinner, I remember sitting down with Biff and my radio station tape recorder, turned on the mic and –– sat there in silence. After a couple of minutes, I turned off the mic and he said, "Boy I'm sure glad that's over!" I agreed and then he said "You want to go to Nashville?" So the next morning after his show, we piled into his red VW microbus with a big redwood bumper and a piano inside and, since I didn't know how to drive a standard transmission yet, recruited a couple others who could drive so he could play piano as we drove, and down the road we went. We slept in his front yard and went to the Country Music Hall of Fame, ate Goo-Goo Clusters ("Grampa Jones eats em!") and Marie's BBQ and laughed uproariously at everything.
I walked out of the radio station into life in the itinerant musician's lane and when I returned a week later, the staff of the station had a grave message: You need to be reprimanded for leaving your duties here with no notice. I said "Okay by me. I'm leaving school in December to move to Austin." I've never looked back because, sure enough, it was all in the rearview a month later and I had stumbled into the world of mid 70s Austin…
Crow: You said that staying at Kwuda Cabin was pivotal. Would you mind describing how?
BQ: I stayed at Kwuda Cabin (the cabin you built so beautifully) in the fall of 1984. In May of 1984, you and I were already friends and you came by my house on Rosedale Street in Austin a week or so before Kerrville. I had just been struck by lightning (yow is there ever another long story in all that!) a week or so before you showed up. You told me I should go stay awhile at your cabin to chill after the lightning experience since you would not be living there any longer. I knew I needed a change and decided I would come to Arkansas in November. I was in New Folk at Kerrville that year for the second time with an instrumental called "Red Ants" and the song I played at this year's Crow's Nest concert, "Welcome to the Celebration."
I stayed at Kwuda Cabin for a month and really saw for the first time what it was to not be going nonstop all the time. I learned to be deeply still there as I'd already been sitting at home for a few years and to do it in a quiet place with no one else around was like taking the backroads to the heart and the monkeymind. I don't remember a phone being there and I learned lessons in intention, cooked and ate slow meals, went for walks, wrote, played guitar and read for hours and didn't speak for days. Time no longer held sway over me and I learned to breathe differently, to sleep differently. I spent time with dreams and listened to the onlyeveryany. I wrote "The Little Package" (now in the Smithsonian's permanent collection) and in a way, it was a true story. Living a month like that is a revelation, especially for someone who formerly thrived on city chaos and nonstop gogogo, man.
These days I still live in the woods, in a smaller house than yours far from the crowding mad and I've been able to pass on the Kwuda lessons I got by inviting others to stay there when I am out on a road trip. I think a month is a good taste. When you get to have that deep quiet as your day to day instead of the loud cars and endless yadayada, it changes you deeply. It still changes me everyday and I will thank you forever for that gift.
Crow: Tell us about the Kerrville Folk Festival stories that you edited and published!!!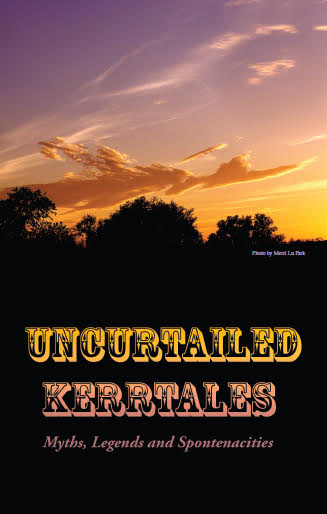 BQ: Over the last couple years, for Kerrville's golden 50th anniversary, I compiled and designed a book of stories written by Festival goers who sent in a tale or two. It's called Uncurtailed Kerrtales and is quite a read, even for someone who has never been to the Folk Festival. It is a collection of heartfelt and oftimes hilarious remembrances about the characters, the collective mythos we all contain after that many years together and the sparkle.
Some folks come for all 18 days and, like my time in your cabin, being outside with few right angles, a fabulous community of eccentrics all around, a huge sky and the elements, it moves and changes folks intrinsically. I have attended for 42 of the 50 years and it's my favourite 12 fret program human gathering. Each year I find out things I never knew about myself and the world, and learn from others about so many things. The friendships are deep and we have time to get to know each other, unlike other hit and run entertainment festivals as goods they can be too. We call it "the Valley of self-discovery" and play music together, eat food together, and we relax and laugh, living together in a peaceful place and alternative reality. As far as I know, there are no other annual gatherings that last so many days and have done so for so many years. https://brianqtn.bandcamp.com/album/parakeetfishhead
Thank you for doing this, Crow. Folks can get a hold of me through the place where they can stream my albums, brianQTN.bandcamp.com
and for videos, www.youtube.com/user/hibidiville/videos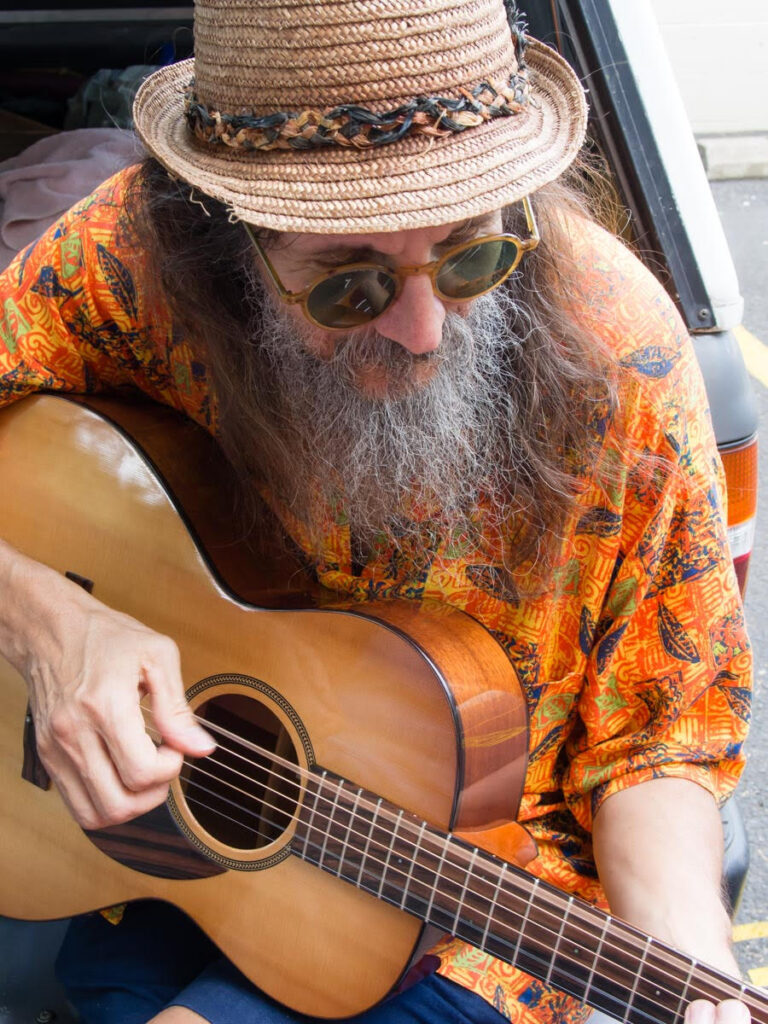 Crow: So dear friends and readers there you have the tip of the iceberg, a short introduction to the amazing QTN. Our future conversations and song swaps whenever that happens again shall be audible. And there is so much about QTN that we didn't mention.