Click here for the complete audio recording of this conversation with songs…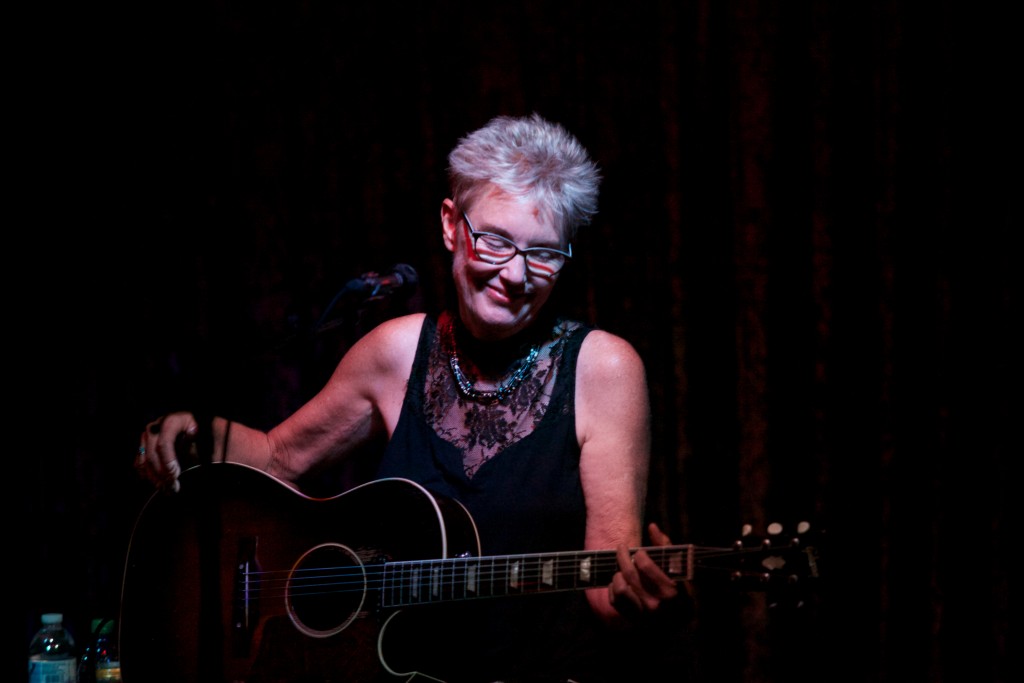 Crow: Welcome, everyone. This is Crow Johnson Evans, and it is Auntie Crow's Corner. Today we've got the joy of a conversation with Eliza Gilkerson.
Welcome, Eliza.
Eliza: Thank you, Crow, great to see you and hear you again.
Crow: It's been a while. We both started recording at about the same time in 1967 or 1968…You've been far more productive than I have.
It's so much fun to think that we've crossed paths, but we have never sat down, knee bone to knee bone, and had a conversation.
Eliza: I know It's so funny, because when I see you I go, "Hey, there's Crow." Wow! It's so cool to see you, and then it's like, okay. See you in a couple of years.
That's about it. Well, thanks for pursuing this. I appreciate it.
Crow: Yeah, it's a treat for me. I remember the first time I heard your voice was on a PBS documentary film, …Something about ships.
Eliza: I wrote a song for it. It was about the clipper ships. Yes, "Ghosts of Cape Horn". I think it was called.
Crow: Your father, son, and brother— all musicians. Did you ever consider that you wouldn't be a musician?
Eliza: I never did. I never thought I could do anything else, and I really wasn't very good at anything else, in terms of making a living. It was always a passion. It always felt like destiny. And, you know, I took a lot for granted. Just so. I made a lot of assumptions about that, like "Oh, I'm just gonna, you know, take off and be this big thing. And I learned the hard way. Every gain you make is from a lot of effort and dedication, you know. It's a great career. It's the right career for me because I think I wouldn't be very good at something that I didn't like. I wouldn't be good at showing up every day doing something that I didn't really feel had some meaning to it.
Crow: Absolutely, and that seems to be a common thread, talking to other songwriter performers. Given the choice, I would rather sleep in the truck for a few years, and be able to sing the way I wanted to sing. Which I've done.
Eliza: I think you're right or sing at all. You know I'd rather just be able to sing, and it keeps me body-mind, and spirit healthy and writing, and all those things. I really feel out of sorts when I'm not doing those things.
So yeah, it's been very healthy. Just singing is yoga. And so just even that alone has been so good for me, and with the pandemic, it's been interesting to slow down singing. I haven't been singing: not even half as much, and there are all kinds of health results when you stop singing.
Crow: I looked at your website, and it's wonderful. How many recordings have you done through the years?
Eliza: I get a different number each time I count. 24 or 27 something like that.
Crow: I was delighted to hear "Bristlecone Pine 'on your album the Song from the River Wind. Michael Johnson recorded that song years ago.
Eliza: Yes, I've heard his recording. Yeah, that is great.
Crow: So what you may not know– I was for a dozen years a relative of his. He was my brother-in-law, and that's where the Johnson came from. Yeah. I also don't know if you knew, that when he passed on he had his ashes scattered at the feet of abristle cone pine.
Eliza: Is that right? Oh, my God! I can totally see why one would do that it. There's definitely a sense of the Eternal for those trees.
Crow: This is a song by Hugh Prestwood, who until recently was living in NW Arkansas.
Eliza: Yeah, yeah, what a great writer! Yeah. Do you know him? I've never met him.
Crow: I've met him, but I wouldn't say know him. He's a delightful person. Yeah. So good.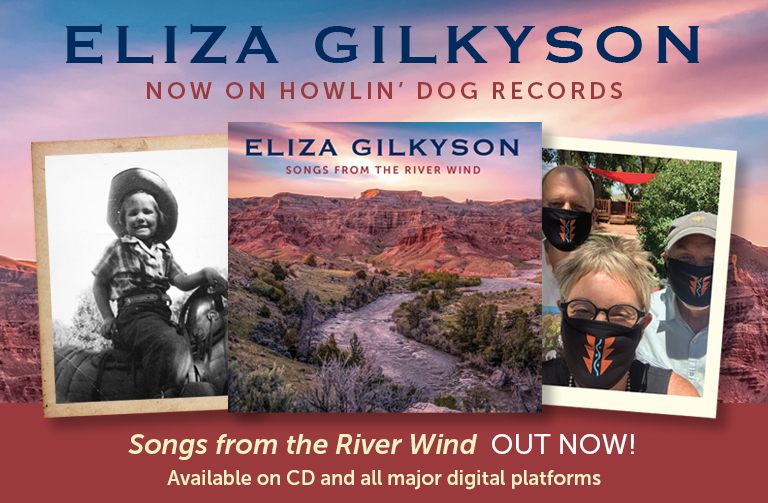 Crow: Oh, there are so many things I want to ask you about the other songs too. I love your take on some of the songs that have been recorded before, When we get this together I'll take two songs and include them.
Eliza: Well, I do love the song "Wandering". It has a lot of history for me. That is a well over a one-hundred-year-old song, written in the late 1800s. and it's an Irish folk song that has been recorded by many folk artists over the years. It's a really venerable song, a beautiful, beautiful chorus. My dad recorded it in the 1950s with his band, the Easy Riders. That song has always stuck with me through the years.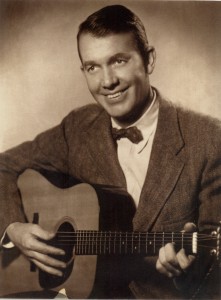 But for this record, I changed the lyrics to be from a woman's point of view. I just thought that'd be kind of fun because a lot of the old folk songs were very male-centric, you know, especially "Wandering". I had a lot of fun changing it to be from a woman's point of view. I hope I kept the integrity of the old song. When you mess around with an old folk song, you have to really come at it, you know, with an active obeisance, because you have to really love it and have it in your bones before you would ever go in and alter something.
Crow: I think you did a beautiful job, I love the cowboy part.
Eliza: Yeah, because the original line was." I got a brunette up in Boston and a blonde in Santa Fe and a redhead up, and something. Dallas made a fool out of me" ( that I think was one of my dad's lines. I don't know if that was.). But It was fun to turn it around and say, Oh, well, she had some guys, you know, posted around the country as well.
Crow: I'm happy that you are supporting women singer/songwriters. The last fifty years have not been generous to us.
Eliza: Well, I mean when you and I were we were starting out, they probably signed one woman to every two hundred men. I mean it was outrageous. There were expectations for women to fit within a certain stereotype. The women that did succeed in that time period did it in spite of just an incredible amount of inertia.
Now I mean women are just really all over the place in folk music. I think it's a massive shift and a really welcome one.
Crow: I've enjoyed listening to folk radio recently, and am happy to see that you are played on both the college one as well as the folk radio.
Eliza: Oh, yeah, I do very well in that genre. It's always been very good to me. I don't know if it sells records at least, but you know, gets you out there and helps you create a community that you know, like-minded people and people that follow your music and stuff. So I'm very grateful. I really don't know what I do without folk radio.
Crow: That's great. Let's hear it for folk radio for sure!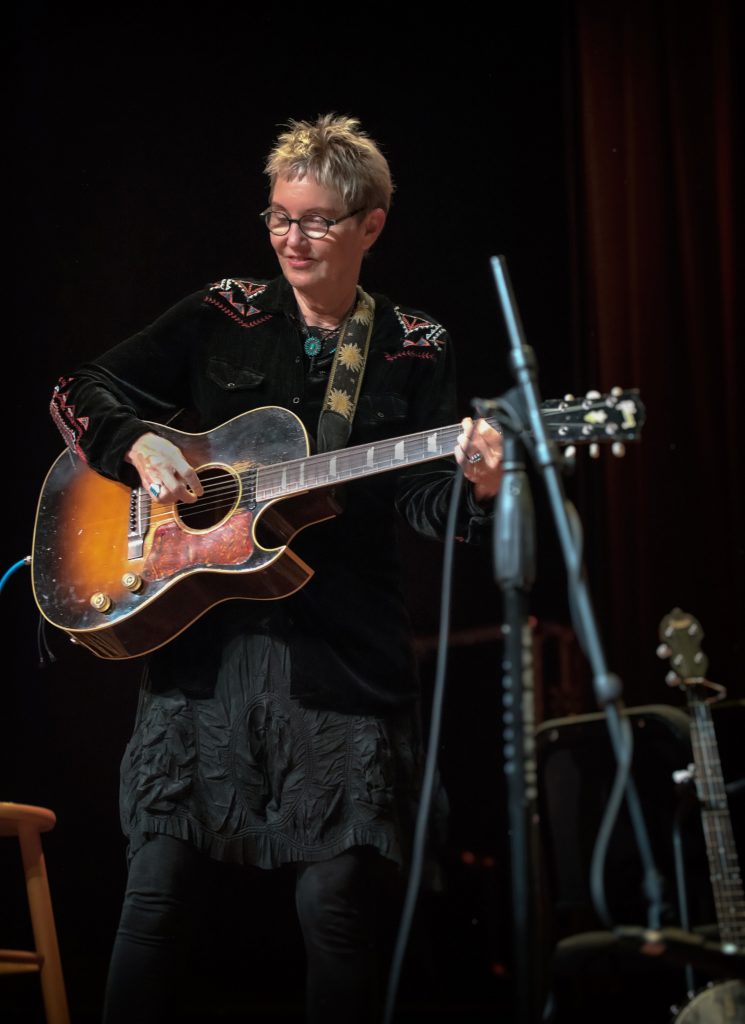 Crow: I love the relationship the people get with their creativity, and how important it becomes in their lives. Frequently it extends beyond music into lifestyle, writing, or other areas. Talk about your relationship with it
Eliza: I am lost without it. I can be a slacker, but sooner or later I have to do something creative. And I have other outlets. I like to make jewelry, and I like to work with fabrics. I'm a gardener and you know I guess I try to do something creative every day. I think I'm kind of like a hippie creator, you know. I like to grow lavender and dry it, put it in little sashes and give it to people for Christmas, whether they like them or not.
I just like to be doing something that has a little end product. I play music a lot. Even when I'm off the road I'm playing music. I've built a little live stream studio, and that has been a great source of fun for me. It's my own space. It's out of a little old adobe garage. I've got a keyboard over there and a computer and I go over there and have fun. So that's great. I've always got something going. I love it
Crow: I'm a spinner and weaver. The little lavender sachets are great. Please put me on the Christmas list!
Eliza: Well around here. We dry the sage and mix that up in the session. So it's really nice. It has a really wonderful little New Mexico touch to it.
Crow: I asked if I could ask you personal questions, and I really appreciate the fact that you said I could. Everybody hits a low point at some time, and I'm so curious about what it is that helps people find their way back out of those low points. If you had a story of yours to share, that would be great.
Eliza: Like everyone, I have my low points, but I also am one of those people who default to a kind of happy place.
That doesn't mean I haven't had some very miserable times in my life, and a lot of them were just around choosing unhealthy relationships and that kind of thing. But I don't do that anymore.
I mean that was life lesson one hundred and one for so many of us. And so I really was an Angst-driven artist in the early years, largely because I just was very unhappy with relationships and the box that I put myself in. I've been out of that cycle for so long.
Now the things that bring me down the things that make me unhappy, are what is going on in the world today.
I don't see a concrete way through it. It's not doom and gloom as much as it is reality-based. The math is not working for a happy future and healthy future.
I feel terrible about the plight of humankind. But I feel worse about the plight of the natural world, and I find that very hard to cope with, and what I do is I write about it a lot, I always seem to write some kind of redemption into everything that I do, and I have that sense of redemption in my own life.
Things go in cycles and I know that every day, if I get up and I do something, if I create, or if I encourage voting, or if I go and do something positive somewhere, write something that I can put out there, that it is of use. Then I don't feel so bad, and I also find that gathering with like-minded people pulls me out of that sense of just all despair, and well, that maybe I should say the grief because I don't feel despair. I just feel a lot of grief, and I feel like I'm carrying that, like so many people who have their eyes open right now. I grieve when I hear of species dying out or suffering.
And but in terms of my personal life, I had a bad year. I've been sick for a year and that was really hard. We don't know what I had, but it probably is Long Covid. We don't know what else it could have been, but I am coming out the other side of it now.
I have an incredible partner and so I was very lucky to have someone love me through that, and have my dogs around me. And I live in New Mexico, which doesn't suck. That really helped, too.
I had a process every day where I just kept being proactive. And I do think if a person is in the doldrums like that, then it's very good every day to come up with a new angle to approach that thing. And even if that doesn't work, it leads you to something else. You take that off the list, but you keep at it and I didn't feel like writing at all during that time period. So creativity wasn't really an option I didn't have the energy for it, but it was much more about every day getting my head straight about how to tackle the thing that was in my path, and keeping me from my happiness.
I know what happiness feels like and that's a nice point of reference to know what joy feels like. It's in the very little things. It's a dog sitting in the sun. You know It's a beautiful bird flying by if you're sitting outside. You know that if you get down to the bottom of your barrel sometimes, those are the only things you have left, and we draw on those things.
Crow: What would you say has been your highest point? And what got you through that?
Eliza: I've had some high points —getting Grammy Nominations for a couple of my records really was like, Oh, my God! I just came out of a hole in the ground, and I came out, and the sun was shining on me for a minute, because it's hard when you're a kind of struggling artist, and you're never going to have the tour bus. You're always going to be road doggin' it. You're a road warrior, and you know you have good days and bad days, but I do think getting the grammy nominations was really important affirmation for me because I've been doing this for fifty-five years now, and I have not gotten those kinds of accolades. So that was meaningful to me in terms of just my career.
Joy and my personal life? Moving back to New Mexico has been a really big thing. I mean, that's what this new record, the Songs from the River Wind, is all about– my returning to the west, and immersing myself in it and falling in love with it, and having all these memories come up, and these old songs. I feel so lucky I'm in Taos now.
We're here now, finding our home at our age, and knowing that that's our home for the rest of our life. That's a very, very affirming and strengthening way to put down your last roots.
Crow: You've been working with some other people sharing songwriting workshops?
Eliza: Yes, Well, I started doing them here at my house in Taos before we had actually moved here. We would just take over this house, and I had various other teachers. I had John Gorka. Mary Gauthier and Gretchen Peters came, then at a certain point, I started inviting Don Richmond, a wonderful songwriter and producer, and he started coming for one day on our whole weekend he'd come down and teach a half day, and he had so much knowledge. So I started inviting him to all my workshops. And then, when Covid hit,: we went into Zoom, and we were very nervous about it. We didn't know what would happen, but we close it out at twenty students, and I invited John Gorka because people just love working with John. He's just, he's just so great, and he's so kind, and he's such a wonderful intuitive and thoughtful original thinker and songwriter. So John and I just decided. Let's just do it three or four times a year, and have Don on board with us. So now it's really the three of us. And we have a very loyal base of songwriters who it's always really fun. We are so happy with how the zoom workshops have turned out?
Crow: Will people find out about those by going to your website, or how do they find out about it?
Eliza: Yeah, there's a link at my website. ElizaGilkyson.com There's a Casa de Musica workshops on Facebook.
Crow: Yeah. Okay. Good. Well, you may have a few more people after this.
Eliza: Oh, well, we'd love that. We've got one coming up in February, and all they have to do is get on our mailing with my mailing list. You can do that at my website, and then we send out the invitations. It's a great group. We write songs. We have a really good time. We laugh and cry, and we get into it. John and Don are both such safe people to explore your creativity with they're so kind-hearted and generous and supportive, enthusiastic, We create a really supportive environment.
Crow: Are you working on another album now?
Eliza: I am just starting to flirt with some ideas. Yeah, the last one was such a left turn for me. It was not political. For the last fifteen years I've been doing a pretty socio-political Kind of approach to my music which ended in the record before this one, 2020, which was just put out during the year, two thousand and twenty. It was a real call to arms, you know, for the election year, and then I was so burned out on it, and I was so excited about being in New Mexico. I just went completely into this whole um Southwestern kind of feeling thing, and so I don't really know what to do next. I'm just kind of going to see what comes out.
Crow: Thank you so very much for taking the time.
Eliza: My great pleasure.